Slower and with less action, episode 2 delves further into the backstory and reveals a plot amid some sly jokes.
We are asked to consider why the Romulans have no synthetic life forms. It is a neat trick because, yes, we've never seen a Romulan android or a Romulan holographic doctor but then again we've never seen a Vulcan one or a Ferengi one or very many human ones…
The original series of Star Trek dodged a bullet (or a phaser blast) by being just a bit too early for ubiquitous computers in real life. The bridge design has colourful lights, buttons and screens that don't look vastly anachronistic today. Even the clunkier voice interaction with computers avoids the kind of overly dated look that the otherwise visually impeccable Alien makes with computers.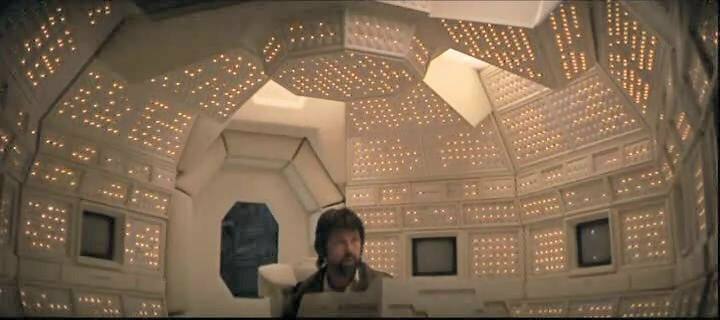 Star Trek: The Next Generation inherited the original series aesthetic but added in a holodeck and, of course, Data the android. Initially Data is just a variation on the Spock role: a being with a different approach to human emotions to whom things can be explained. The original series had had its own encounters with artificial intelligences and synthetic beings (e.g. https://en.wikipedia.org/wiki/I,_Mudd ) but Data's continuing presence and Brent Spiner's engaging performance made the character a fan-favourite for TNG. Data as a key character in the series entailed further exploration of his origin but also of his fundamental nature in episodes such as Datalore, The Measure of a Man and The Offspring among others.
The holodeck also brought in more questions about the extent that people could be simulated computationally in episodes such as 11001001 and Elementary, Dear Data. As is the way with Star Trek, cute ideas for a single episode get baked into the extended lore of the series, placing Star Trek as a series in which complete artificial intelligence is a recurring theme but also something surprising to characters.
In short, in the Star Trek universe, 'proper' artificial intelligence is feasible (indeed sometimes it happens by accident) but not common place. There is really little mystery about a lack of synthetic people. While Isaac Asimov (whose robot stories Trek borrows from for Data's positronic neuron and who gets a visual book credit in this episode) imagined artificial intelligence in the form of human like robots, from our position in the year 2020 we can see computational technology is less about physically replacing people but rather about interconnected computing devices baked into our surroundings. Oddly, that more resembles the original Enterprise with its screens and voice commands than Asimov's robot stories.
Androids aren't going to be ubiquitous when people are already plentiful. That doesn't make Data unlikely. Quite the opposite. Data as the product of a singular intellectual passion makes sense and the otherwise lack of other androids also makes sense because there is no real point to them in a universe of automated space ships.
Picard though, plunges us into a different possibility with a flashback to a historical trauma that is fuelling the plot. Synthetic people working for Starfleet on Mars were a relief fleet is being constructed to save the Romulan populations. For reasons as yet unknown, the robots rebel (as they are wont to do) and help destroy the Starfleet shipyards on Mars. This act goes on to precipitate Starfleet withdrawing from the rescue of the Romulan population and Picard's resignation.
Romulans and androids sounds like a Trek-themed RPG system but it appears Picard the series is going on a deep-dive into both. We learn about the layers of secrecy within Romulan politics and how it seeps through their culture as a whole. Dark hints and conspiracies add to the spy-thriller aspect to the show that I was hoping for from when it was first announced.
The downside for this episode is there is a lot of exposition. I quite liked the entwined speculation about the layers of secret police in Romulan society along with the forensic examination of Dahj's flat. I can't think of an example of that on TV before: switching between two different but closely related conversations between the same characters but in two different locations at slightly different times. It was an infodump but at least somebody was trying to do something interesting with it.
Patrick Stewart is worth all the money they are paying him. The tense conversation at Starfleet where he pitches that they give him a rank, ship and crew was brilliantly done, capturing a casual arrogance and sense of entitlement that is emotionally painful for the viewer.
Orla Brady as Picard's Romulan friend (carer?) is also quite brilliant in this episode. She does make me speculate on quite what Irish Romulans are within the imperial culture of Romulus but variety of accent just by itself makes Romulus suddenly feel a bit deeper and richer as a society. Likewise, throwaway lines like 'secret police' being a redundant term in Romulan society gives a sense of the inner culture of the Romulan Empire.
Meanwhile, at the ruined Borg cube another set of mysteries are unfolding. Quite where this thread is going is unclear but there is a convergent reflection in the shows theme of machines becoming people with the Borg's habit of making people into machines.
Stray observations
Aside from being distracted by the concept of Irish Romulans (Romulans often get accent-coded as RP English because it's a Hollywood convention for Romans-as-bad-guys, so a change is nice) the other thing I wanted to point at was the "[blank] many days since the last assimilation" sign in the Borg cube. I laughed, indeed it was funnier when I first saw it because amid the ruins of the cube it could have been a sign left by the Borg, which is a funnier idea than I assume the semi-serious implication that it is a workplace health and safety notice for the Borg-researchers (borgologists?) who might accidently find themselves being technofied by the still slightly virulent cube.